Do you feel like you can't go on feeling powerless, lost, and exhausted any longer and something has to change?!
Or does this sound like you?
✓ You have been told by doctors that your chronic illness is incurable and that they can't do anything for you (other than give you medication that will suppress your symptoms), but you refuse to live like that for the rest of your life?
✓ You probably tried a few things, read a few books, maybe even tried different healing modalities, diets, herbs and supplements?
✓ You are feeling alone on your healing journey and you feel discouraged because you aren't getting any long-term results?
Let me introduce the Inner Healing group program to you!
✓ You have awareness and understanding about what has caused your body to create the health issues you are experiencing and have tools to work through them
✓ You step into your power and begin to live each day joyfully, purposefully, and with gratitude
✓ You wake up energized and excited about your day
✓ You are part of a community of people who understand what you are going through and support you on your healing journey
✓ You know you have answers to all of your questions within you and you know how to receive them
Let me guide you together with your inner voice to step into your power, start liberating yourself from the struggles of your mind, healing your body and becoming the empowered and soulful woman you came to this world to be.
✓ Connect with your highest self and the healing power within you
✓ Take responsibility for your own health & trust that you can heal and heal from within
✓ Liberate yourself from the limiting perceptions of the mind
✓ Release the parts of you that no longer serve you – resistance to change, limiting beliefs around healing, old stories, past experiences, traumas etc.
✓ Uncover the true causes of your health issues
✓ Begin to understand what your body is telling you with the physical (mental & emotional) symptoms you are experiencing
✓ Commit, invest into yourself & put the work in
✓ Face your shadows & start feeling empowered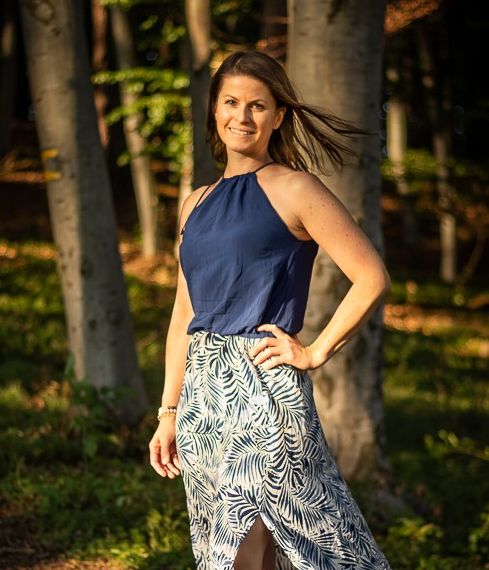 Hey lovely! I'm Pavlina & I've been there
I've struggled with many chronic health issues in the past (including eczema, severe digestive issues, inflammation and food intolerances, hypothyroidism, depression, anxiety, and bulimia to name a few), tried many different things, many diets, healers, supplements, healing methods, but I wasn't getting anywhere. I was desperate, until I started slowly uncovering and unblocking the underlying causes of my health issues on the energetic and the subconscious levels.
My own healing journey and working with many women with different chronic health issues over the last few years have thought me that all issues – physical, mental, and emotional – are rooted in the disconnection from your true self, combined with limiting beliefs, subconscious programming and past trauma.
That is why I am passionate about helping other women to uncover, unblock and release the underlying causes of their health issues, step into their power and to live a healthy, happy and purposeful life.
I would love for you to have the same: Freedom to live a healthy and happy life without restrictions, fears, pain or anxiety.
Working with Pavlina is amazing! She has a very calm energy and shows genuine interest in me and in helping me. I feel safe with her and it's easy to trust her and to be open with my health issues. Inner voice coaching with Pavlina helped me to remove blocked emotions from my body and taught me how to consciously work with my intuition. As a result, both my digestive and my mental health issues have improved. I now I am grateful that I know Pavlina and that she is part of my path to healing.
Sabina F.
Pavlina is after a long time a person who does not push you into anything. I tried all sorts of therapies and other things that are on offer today, and I felt a certain pressure from everyone. People had either the tendency to scare me, or change my life from the ground up etc. Pavlina is a guide. All the methods and modalities she uses are very nonviolent and she helps you to work on yourself, work on your mind, your awareness and your intuition. It is working with your intuition that is extremely interesting. It does not necessarily have to be a direct communication with the inner voice, but thanks to the connection to it, you can get rid of all sorts of mental and emotional burdens and physical ailments.
Martina H.
Pavlina, I think you are made to help people heal! You are a true healer, I felt it. I released 2 emotional blocks following you and my inner voice guidance. I felt supported by your sweet voice during the whole session and I really felt the group energy. I felt tingles in my whole body. It brought a lot of happiness vibes to me. After the session I felt refreshed, lighter, in a good mood & high spirits! You are very good at holding group sessions! Thanks a lot for this beautiful soul!
Anne-Sophie B.
Really powerful! It was very soothing and relaxing with an intense connection with my inner voice. I then felt a lot of energy come up in my root chakra and was able to move a lot of energy through this area and released a major emotional block. I felt very supported and grateful to have this space to release this.
Natana M.
Pavlina guides you with a safe hand through your sessions. In her presence, it's very easy to let go and shift the focus inwards, receive messages from your inner voice and release what is blocking you, as you know she will hold space for you with ease, love, and generosity. I can highly recommend to work with her!
Kim P.
WHAT'S INCLUDED
⮞ 1 x individual Inner Healing session (2 hrs)
⮞ 4 x weekly group calls – includes workshop, group Inner Healing session, drop-in session for each client (length will depend on the number of participants)
⮞ Workbooks / daily & weekly journal prompts
⮞ Private group to communicate and support each other in between calls
WHAT WE'LL BE FOCUSING ON
⮞ Uncovering and releasing underlying causes of you health issues on the energetic, subconscious and emotional levels
⮞ Releasing resistance to change / healing
⮞ Awakening the healing power within
⮞ Learning to communicate with your body and your inner voice
⮞ Understanding your symptoms and their meaning
⮞ Gifts of illness and how it relates to your purpose and your life path
Are you ready to step into your power and finally start healing?
group program launch: 5th May 2021
Sign up with your name and email address to be added to the waitlist and receive news and updates about the program.